FolderHighlight
What is it?
FolderHighlight is a small but powerful tool that changes the visual appearance of the folders in your PC. With FolderHighlight you can quickly change the color of any folder.
Even though Windows already allows you to customize folder icons for this purpose, FolderHighlight is a much easier to use as it integrates into the Explorer right-click menu, so you can quickly mark any folder without having to go through additional dialogs.
How it works?
We receive about 80% of all information through the eyes, and the same 80% of our memories consist of images. When you are browsing through dozens of visually similar folders, you are not using your vision to its full extent and thus your activity is less effective than it could be. But if some of these folders have a different color, they will catch the eye faster than you read their name. This way you can easily differentiate between folders and browse much faster, because you are using your vision much more efficiently.
Who needs it?
People who want a quick and convenient way to arrange and categorize information stored in their PCs.
People who work with a lot of documents and want to improve the efficiency and speed of their work.
People who want their operation system to look cleaner and nicer.
How to use it?
FolderHighlight is very easy to use no matter how much do you know about your PC. To change color of a folder, right-click the required folder with your mouse, select FolderHighlight in the context menu and then choose a suitable appearance for the folder.
What are the system requirements?
FolderHighlight is working under Windows 2000, Windows 2003, Windows XP, Windows Vista and Windows 7 and Windows 10. Both x86 and x64 platforms are supported. It is possible to install FolderHighlight on Windows Server 2016 and 2019.
How much does it cost?
FolderHighlight costs $9.95. If you buy this product you will get a license key that allows to use this program without any limitations.
What are the limitations of the trial version?
The trial version of FolderHighlight is fully functional for 30 days. When the trial period is over, you have to buy a license key if you want to continue using FolderHighlight. Once you have received the key, right-click on any folder, select "Register…" under the FolderHighlight context menu and enter the license key in the corresponding text field.
Screenshots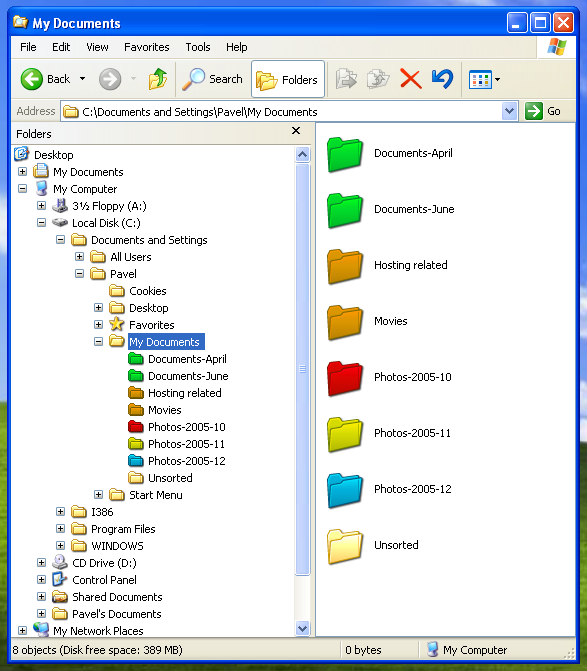 FolderHighlight in action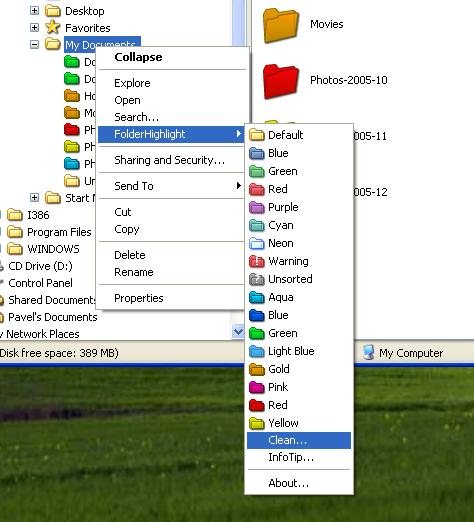 It is possible to remove colors from several folders at once.
All colors in selected folder and all subfolders will be deleted. Are you sure?
Operation Clean is finished. All colors in selected folder and all subfolders are removed.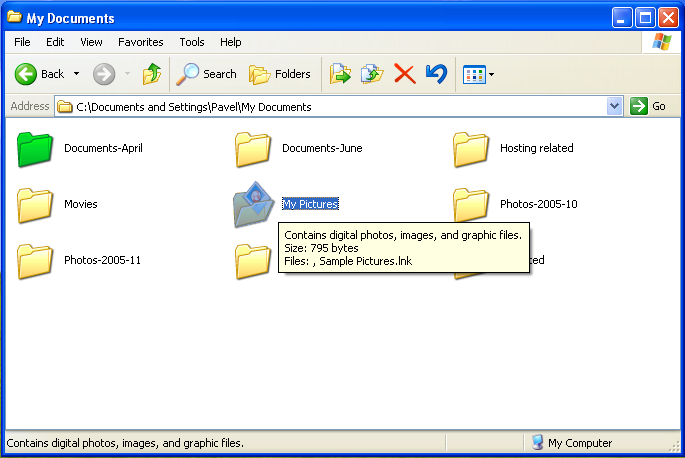 Do you want to use this Windows trick to explain content of your folder? It's easy with FolderHighlight!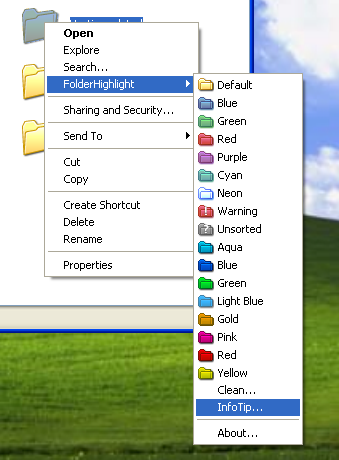 Infotip management allows you to explain content of your folder more detailed.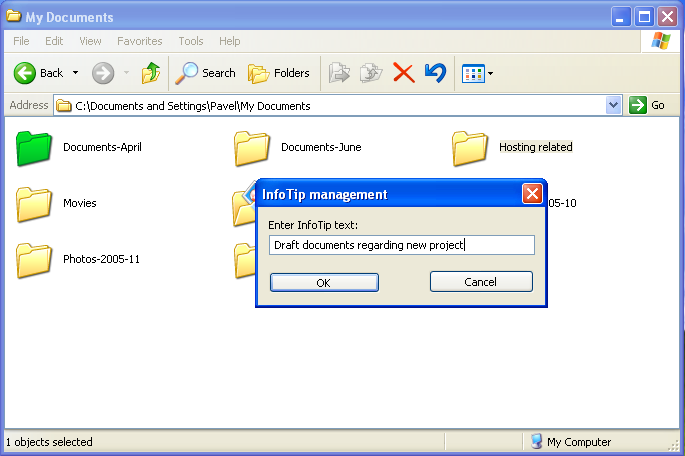 Enter information about your folder.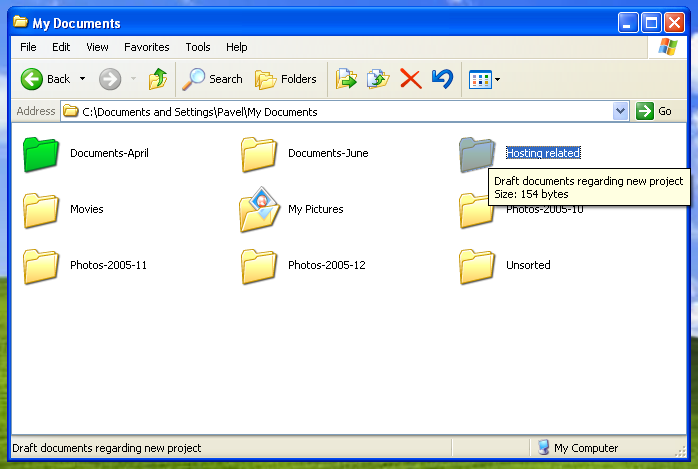 Now you can see your information in status bar and tooltip!
Infotip is also available on Windows Vista and Windows 7.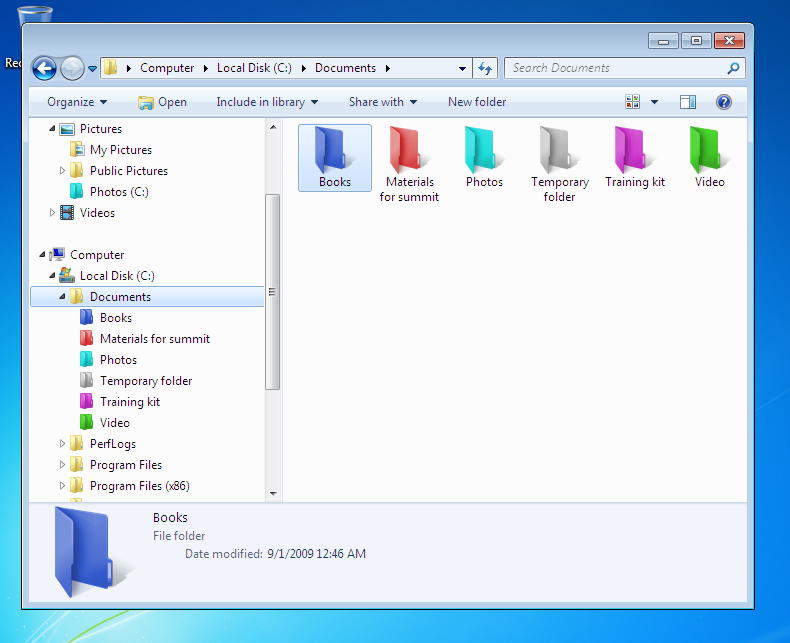 You can change colors for different folders size.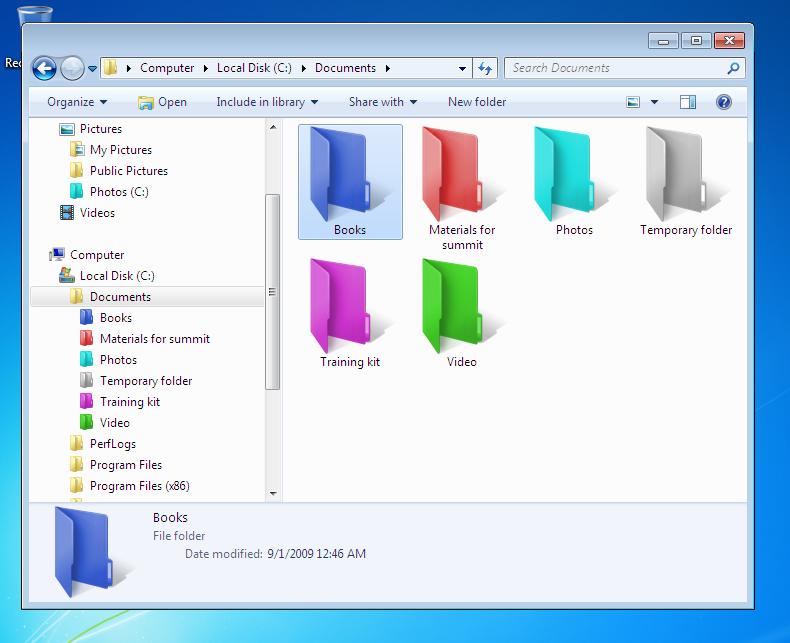 Folder colors can be changed on Windows Vista and Windows 7.
Releases history
v2.9 (released: 24 March 2021)
Improvement: Added FolderHighlight menu icon
v2.8 (released: 27 March 2019)
Bug fixed: Pinned folders in Windows Explorer may not work after installation of FolderHighlight
v2.7 (released: 15 September 2018)
Bug fixed: Crash in Windows Explorer caused by FolderHighlight
v2.6 (released: 19 February 2016)
Improvement: Windows 10 support: icons updated to Windows 10 style.
v2.5 (released: 17 October 2014)
Bug fixed: Folder icons in menu are not displayed if system font size set to 125% or 150%.
v2.4 (released: 08 February 2010)
Improvement: unnecessary internal checks are removed. Initialization of extension should be now bit faster.

Bug fixed: Windows Explorer crashed in some cases on Windows XP when trying to change folder color in left tree view.
v2.3 (released: 16 December 2009)
Improvement: Folder icons files are now marked as system and hidden. This can help you if you have "Show hidden files" enabled in Windows Explorer folder options.
v2.2 (released: 22 November 2009)
Using native Vista and Windows 7 menu styles

FolderHighlight installed on 64-bit platform now registers also 32-bit extension to work properly with 32-bit applications
v2.1 (released: 14 October 2009)
Better integration with Total commander and Directory Opus file managers
v2.0 (released: 01 September 2009)
Ability to change folder colors in Windows Vista added

Ability to change folder colors in Windows 7 added
v1.5 (released: 16 October 2007)
x64 edition support added

Bug fixed: original folder icons backup during "Clean…" operation
v1.4 (released: 28 November 2006)
v1.3 (released: 04 November 2006)
New feature "Infotip management" is now available. You can easily manage Infotip for your folders! This is another great way to highlight your folder.

Fixed some registration issues
v1.2 (released: 08 September 2006)
New color icons added

New feature "Clean" is now available. You can remove colors from multiple folders at once!
v1.1 (released: 28 January 2006)
Stable release with basic functionality