FolderBookmarks
What is it?
FolderBookmarks is a small but powerful tool that allows you to navigate to favorite folders in your PC with just two mouse clicks. With FolderBookmarks you can work with your PC more effectively.
FolderBookmarks is integrated with Windows Explorer so you can use it even in the "Open File…" or "Save File…" system dialogs. You can use it from different products installed in your PC.
How it works?
In most cases we use small amount of different folders at the same time. These "popular" folders are not always easily accessible. Using FolderBookmarks you can create bookmarks for your folder. After that you can open favorite folder fast and easy. You can navigate to folder marked as bookmark with just two mouse clicks. FolderBookmarks allows you to improve efficiency of everyday computer activities.
Who needs it?
People who want a quick and convenient way to access categorized information stored in their PCs.
People who work with a lot of documents and want to improve the efficiency and speed of their work.
People who want to decrease time spent on everyday's folder browsing.
How to use it?
FolderBookmarks is very easy to use no matter how much do you know about your PC. To create bookmark for your folder, right-click the required folder with your mouse, select FolderBookmarks in the context menu and then select "Add to bookmarks" menu item.
After that your folder will be available in the list of bookmarks. If you want to navigate to this folder from any place in your system, you just need to right click on empty area of Windows Explorer, select FolderBookmarks in the context menu and then choose your bookmark.
If you want to open or save file from application that you use, FolderBookmarks can help you to navigate to favorite folder directly from "Open file" system dialog.
What are the system requirements?
FolderBookmarks uses technologies available since Windows 2000, so it will work under Windows 2000, Windows 2003, Windows XP, Windows Vista, Windows 7, Windows 8 and Windows 10. Both x86 and x64 platforms are supported.
How much does it cost?
FolderBookmarks costs $9.95. If you buy this product you will get a license key that allows to use this program without any limitations.
What are the limitations of the trial version?
The trial version of FolderBookmarks is fully functional for 30 days. When the trial period is over, you have to buy a license key if you want to continue using FolderBookmarks. Once you have received the key, right-click on any folder, select "Register…" under the FolderBookmarks context menu and enter the license key in the corresponding text field.
Screenshots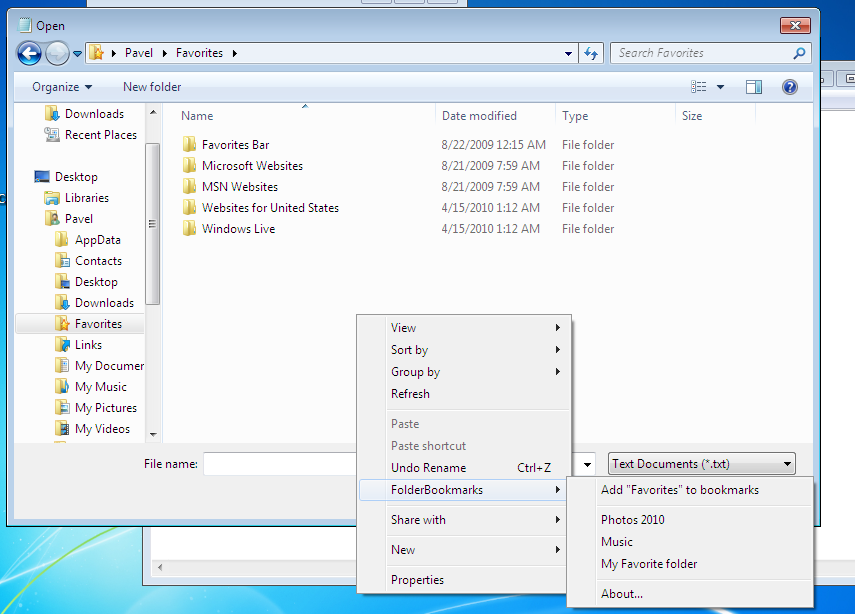 You can use FolderBookmarks directly from standard Open File dialog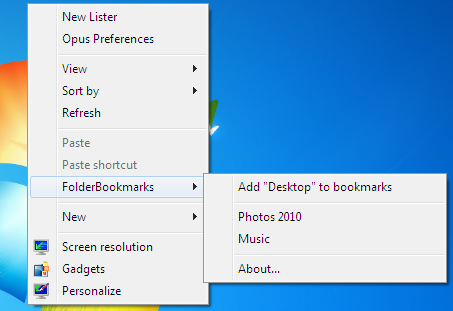 You can start using FolderBookmarks right from your desktop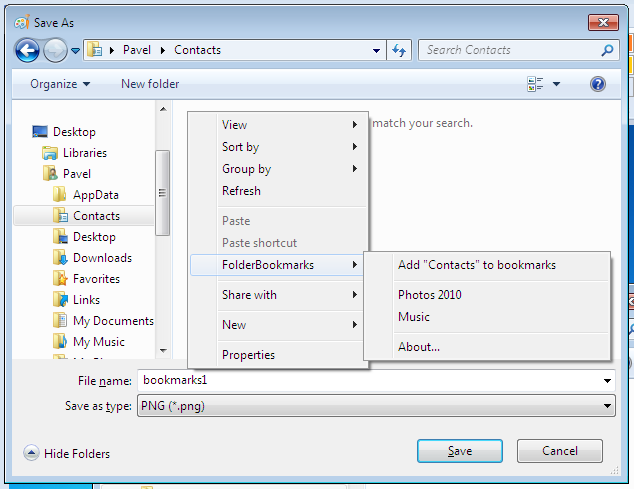 You can quickly proceed to desired location when trying to save your work.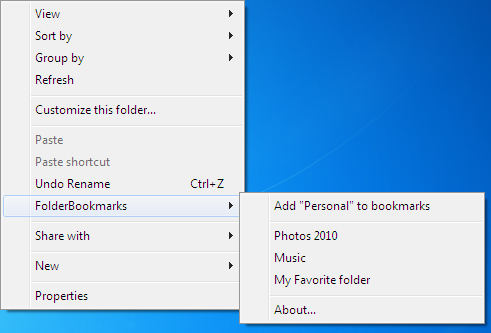 This is how FolderBookmarks menu looks like.
Releases history
v1.2 (released: 16 Sep 2018)
Fixed issue with duplicated FolderBookmarks menu items if you click in Windows Explorer side bar
v1.1 (released: 10 Sep 2018)
Fixed crash in Windows Explorer caused by FolderBookmarks in some cases
v1.0 (released: 25 April 2010)
First version of new product released